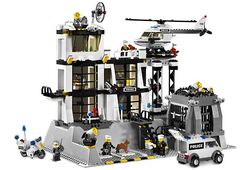 7237 Police Station was a City set released in 2005 and then re-released in 2006. It contains the Police Station, a jail cell, a police helicopter, two cameras on the Police Station, three spotlights, alarms on the cell, and a motorcycle among other police related equipment. The minifigures in the set include four Police Officers, one of which has a flashlight that lights up when his head is pushed down, a robber, and a Police Dog.
7 Figure Variety
Edit
There is also a version without the lighted figure, but instead contains seven minifigures, including an extra robber, policeman and dog. That set with the additional three figures was released in 2006.
Ad blocker interference detected!
Wikia is a free-to-use site that makes money from advertising. We have a modified experience for viewers using ad blockers

Wikia is not accessible if you've made further modifications. Remove the custom ad blocker rule(s) and the page will load as expected.