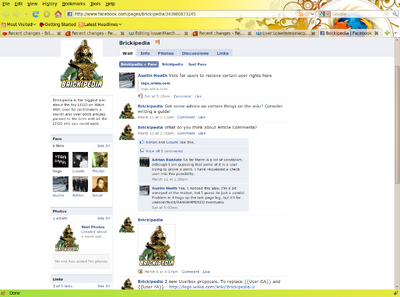 Brickipedia, Wikia's biggest LEGO Encyclopedia now has its very own facebook page! The page can be found here! It is run by Lcawte, and is a place where Brickipedia's can socialize, share photos and post Brickipedia related content to the wall. This idea has followed in the footsteps of other wikis like Recipes Wiki, RuneScape Wiki and Wikia in general.
The Brickipedia Facebook page seems to be gaining followers at a slow, but steady rate. The page itself looks very inviting in my opinion, I really like the use of the brickipedia logo which helps to confirm this is indeed an official page run by the people behind the wiki. I feel that this Facebook page will in time help Brickipedia gain more users and readers.

Review by: Jedimca0(Do or Do Not, There is No Try)
---
---
+leave review. Please do not leave a section header, and only sign with ~~~.
External Links
Edit